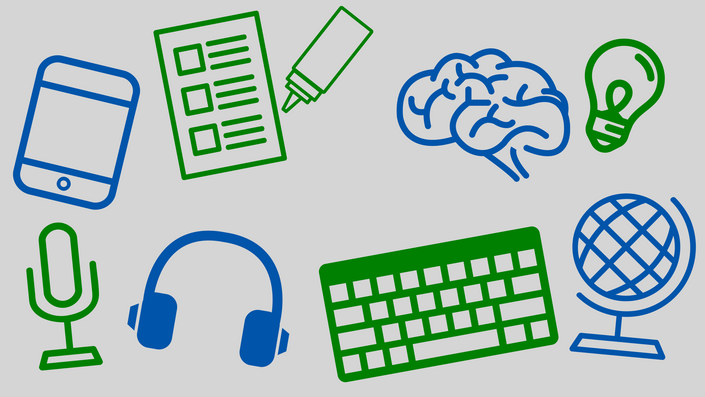 I Taught Myself Spanish Academy
All the tools you need to teach yourself Spanish at ANY level
Why enroll?
Enroll now
To you,
the independent Spanish learner
Discover how to gain fluency in Spanish without losing your motivation or
"feeling stuck" in your learning.
Are you looking for this in your Spanish study?
Study grammar and actually be able to use what you've learned
Easily understand the difficult grammar points for English speakers in Spanish
Stop losing motivation or hitting learning plateaus
Pick up your Spanish study after a long break
If so, then you're not alone. A lot of my one-on-one students over the last 10+ years I've been teaching have felt the same way.
As an educator, I was wishing I could do something to help Spanish learners with these issues beyond my one-on-one lessons.
Common roadblocks in learning were stopping people like you from continuing their study.
So that's why I created I Taught Myself Spanish Academy (ITMS).
Our goal is for students enrolled in the Academy to say "I Taught Myself Spanish!"
Your Instructor
Hello, Hola! My name is Nikki, and I'm a professional Spanish tutor with a Master's in Teaching Spanish as a Second Language from the University of Alcalá de Henares in Spain.
I believe in empowering my students to take control of their learning, the only way you can truly learn a foreign language! It's my mission in life to make more people bilingual!
Check out all of our 9 current courses:
(new courses added every month)



Yes - You gain access to ALL of our current courses + future courses for as long as you're enrolled!
What's in the courses?
The courses are structured so that students can take control of their own learning.
Each lesson builds upon the next so that the course mimics one-on-one sessions with a private tutor.
The courses are for Spanish students of all levels. They cover grammar, reading, writing, listening and speaking.
Not only that, but students can submit their writing and speaking for detailed, personalized feedback from a professional tutor, giving them a clear pathway for how they can propel themselves forward in their study.
In addition, courses include real-world challenges that prompt students to apply what they've learned in the Academy to their lives offline, building skill level and confidence in actually using the language!
We have it all planned out for you - all you have to do is follow the path.
Take a sneak peek inside:
Build up your Spanish skills and confidence, plus take on "Course Challenges" to apply what you've learned in real-life - then get personalized feedback
What are students saying about ITMS Academy?
Here's an email from Ken:

And a Facebook post from Robert: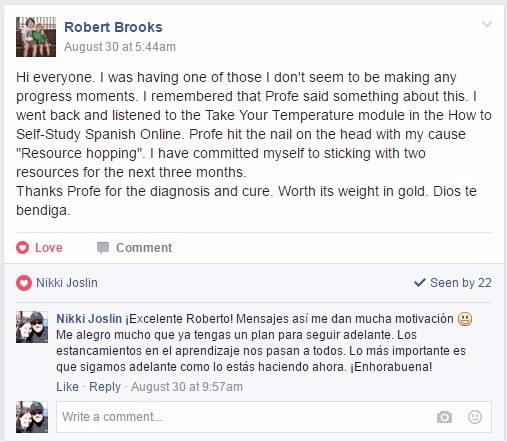 Enrollment Bonuses:
Because I really want you to succeed in learning Spanish, I'm giving you bonuses beyond all the courses.
When you enroll in I Taught Myself Spanish Academy, you'll also get...
• Personalized writing and speaking feedback: Email your writings and voice recordings to the teacher to get feedback for improvement
• You have a voice: We always ask for student suggestions for future courses. We will make a course especially for you if you ask nicely!
• Priority placement: Whenever we open our speaking courses, you will have a guaranteed spot in the speaking class (9 student limit per class).
• Spanish Learning Community: Get access to our Spanish learning community to share your questions, writings and recordings for support, feedback and more Spanish on your social media feeds.
• Discount conversation classes: Academy students receive 50% off on online conversation classes with Profe Nikki.


Who is the Academy for?
ITMS Academy is for beginner, intermediate or advanced Spanish students who:
want to get organized in their Spanish study and have a clear path to fluency
seek the quality of private one-on-one classes on-demand (our course curricula are taken from Nikki's one-on-one lesson plans)
value detailed feedback of their Spanish writing and speaking assignments from a professional tutor
are ready to

build up your confidence and motivation to use Spanish out in the real-world
Who is the Academy not for?
This Academy is not for Spanish students who:
are not willing to follow a proven, conversation- and real-world based curriculum
aren't interested in learning the details of Spanish grammar
aren't motivated to invest time and effort into learning Spanish
(I know you're part of the first group!)
What's the best deal?
Our current enrollment price of $29/month is an insanely good deal for what you get in the Academy.
You'll be paying less than the price of 1 private lesson for access to 8 courses and counting, which you can access at ANY time.
The best deal by far is our Lifetime Enrollment deal.
You get access to ALL of our current + our future courses FOREVER.
Since we will raise our prices as we add more courses and features, this price is the lowest it will ever be.
The second best deal is the Annual Enrollment Plan.
You'll essentially be paying for 10 months of enrollment and getting 2 free!
I am sure that you'll love the Academy.
Enrolling today will put you on the path to fluency in Spanish.
Enjoy conquering a whole new language!
As seen on:

Frequently Asked Questions
When do the courses start and finish?
The courses start now and never end! It is a completely self-paced online Academy - you decide what courses to take, when you start, and when you finish.
How long do I have access to the Academy?
You have unlimited access to all courses in the I Taught Myself Spanish Academy for as long as you choose to continue to be enrolled - across any and all devices you own.
What if I am unhappy with the Academy?
We would never want you to be unhappy! If you are unsatisfied with your enrollment, you may cancel your enrollment at any time. If you are on the monthly plan, you will not be charged for any of the following months. If you are on the yearly plan, you will still have access to the Academy for the rest of the year. Your enrollment will not be renewed for the following year.
Is one-on-one tutoring available?
Yes! Just find the link in the header or the footer of the site that says "Book a class" Profe Nikki gives online one-on-one classes for all levels.
Which Spanish accent/dialect is taught at the Academy?
Our courses are taught in neutral, Latin American Spanish. Regional variations and the Peninsular Spanish (Spain) dialect are noted throughout the courses.